Bring your nervous system, muscle tone, and organs into harmonic balance with this! 😉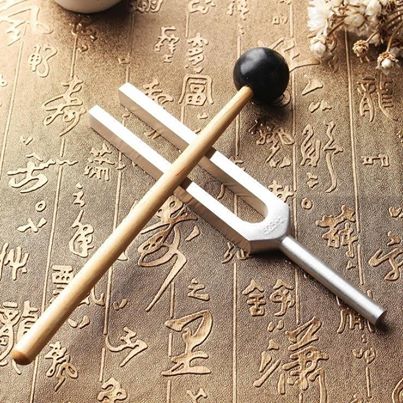 Sound alters our biochemistry and enhances all energy therapy practices. Individuals use Tuning Forks to relieve everyday stress, as an aid to mental clarity, to enhance yoga and meditation, and as a pain management tool. Doctors, psychotherapists, massage therapists, and energy practitioners use Tuning Forks to generally enhance all phases of their work.

Benefits:
✔️ Healthy Body
Originally used to tune musical instruments to the proper pitch, tuning forks have long been used by orthopedists to detect stress fractures in large bones. Now, sound therapists use the vibrations of tuning forks to increase the amount of energy in parts of the body they are trying to heal or energize. These good vibes can support relaxation and balance our nervous systems.
✔️ DNA Repair
The "MI" 528 DNA Repair tuning fork is the third note of the original 6 Sacred Solfeggio frequencies is "Mi" for "Miracles" and is 528 Hz. It is the exact frequency used by genetic engineers throughout the world to repair the blueprint of life, DNA, the healthy core of which is a six-sided crystal of structured water. It can activate the pineal gland and expand our consciousness, it is a soft and pure tone, these 528hz tuning forks give you a pure & beautiful tone when you use the Hammer Tapping lightly.
✔️ Reduce Stress and Joint Pain
Tuner is tuned specially to resonate with the 'Cosmic Om' vibration. It is wonderful in mediation, journeying, in an energy-work session, or just 'tuning in' to universal energies. It helps to reduce stress. It can relieve joint pain, stiffness, and reduces inflammation.
✔️ Meditation
It is relaxing, soothing, balancing, and sedative. The ancient Indians were given this tone intuitively in meditation as they opened up to the cosmos. Delivers clear tone, longer sound, and accurate tuning helps you to achieve peace of mind and deep relaxation. It also helps facilitate yoga poses.
✔️ Balance & Harmonize Energy
It creates your own energy field clear and sacred space, use as a transformational tool for subtle energy work, trace meridian lines, balance energy centers, improve learning concentration, quick send negative emotions, improves insomnia, promotes positive energy, and more!
✔️ High-Quality Material
Made of impact resistance and non-magnetic aluminum, corrosion-resistant aluminum alloy construction for lightweight and durability.
How to Use:
There are two ways to sound your tuning forks. The first way is to gently hold them by the stems and firmly tap the end of the tuning fork on your knees or tap on the tuning fork by a rubber mallet. This will create a pure tone and is excellent for deep listening. Bring the two-prong part of the forks about an inch away from each ear and listen to the quality of tone. Remember that your tuning forks are musical instruments.

The second way is to hold the tuning forks by the stems and tap them together two times to create an audible sound with overtones. This sound is good for moving around the body in the energy field. You can adjust the volume by the strength of your tap. Experiment with getting different sounds. When you move the tuning forks quickly they will create a beautiful ringing overtone. 

Remember that the tuning forks are musical instruments that need your expression and creativity to be empowered. Be creative and enjoy!
Clean the tuning fork by soft cloth after use, store it in a dry place to prevent corrosion.
Package Included:
1x Tuning Fork
1x Mallet

Specification:
Product name: Tuning Fork
Model: 528HZ
Material: Aluminium alloy
Color: Silver
Tuning fork size: 16x2.5x1cm/6.29"x0.98"x0.39"
Mallet length: 19cm/7.4"
Frequency: 528 Hz
Features: Open your heart, prompt peace and hasten healing

OUR GUARANTEE
We truly believe we make some of the most innovative products in the world. We will do WHATEVER it takes with outstanding customer service support to assist everyone as we highly value our customer satisfaction with absolute ZERO risk. We make sure that every customer is 110% satisfied in every aspect with 24/7/365 FAST SUPPORT!