EFFORTLESSLY EASE YOUR PAIN IN JUST 10 MINUTES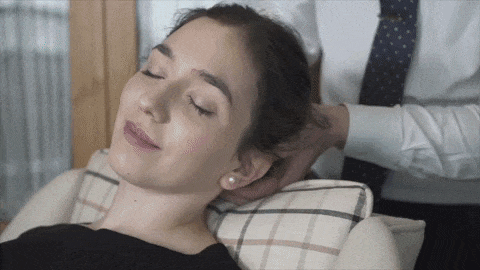 The Neck Relaxation Massager Pillow creates ultimate relaxation in your neck and shoulder anytime anywhere. It helps you relieve stress, rest better and feel refreshed. It is an intelligent, personal massager.
You do not need to ask your friends or husband/wife to get that STIFF SPOT (what some people call it, "Knot"). 
Easy to use anywhere—in offices, hotels, car (obviously not while driving), public transportation, and more.
This neck massager relieves stress & tension.
The neck and shoulder massager lightweight and portable.
You can throw shoulder massage in your purse or backpack and share it with your family members.
This self neck massage also relieves tensions in neck muscles as well.
Rest on neck and shoulder massager for as little as 10 minutes a day to relieve tensions on neck muscles.
This best pillow for neck pain has an honest to goodness support and relief
Just rest on this best neck massager, no professional knowledge needed.
DESIGNED BY A DOCTOR AND CHIROPRACTOR
Neck Relaxation Massager Pillow employs an incredible combination of acupressure, occipital muscle stimulation and cervical relaxation to instantly relieve your neck pain.
Through its uniquely constructed design, your spine will be stabilized and supported which will re-establish your body's natural posture.
This will lead to an increase in blood flow to your brain, neck muscles and shoulders, which instantly begins to reduce soreness while increasing the range of motion in your upper body.
Studies show that optimized posture is directly related to elevation in mood, concentration, metabolism, immune system and more, so the FlexTendon's ability to perfect your body's curvature is doing much more than you can ever imagine!
JUST LIKE YOUR FAVORITE MASSAGE THERAPISTS!
PORTABLE AND EASY TO TRANSPORT
We understand that neck pain can occur anywhere and at anytime. That is why we developed Massager Pillow to be a fully portable neck massager that does not require any electricity. The lightweight yet durable design means that you can bring it with you to the office, the gym, while on vacation and use it in any room in your home.
All you need is a flat surface to lay down on or a chair to relax in, then you can reap all the extraordinary benefits of immediate pain relief and tension prevention that
Massager Pillow
provides!
HOW TO USE
It is very easy to use .. Just REST on Our
Massager Pillow
.
You can use it anywhere - in offices, hotels, sofa, bed, cars (obviously not while driving), public transportation, and more
SIDE TO SIDE AND UP AND DOWN
Turn your head from side to side in a slow and steady motion. When you find the sore spots or muscle knots that you could not get rid of for centuries, stay there until the tension releases. That usually lasts 3-5 deep breaths. Taking 3-5 deep breathes moving chin up and down, will help you release tension and open sinuses.
FAQS
sinuses and release tension at the back of the skul
Q: "Does It Hurt?"
A:
Not really. Those knobs and groves are ergonomically designed to be placed on the muscles knots.
Massager Pillow
uses gravity and your own body weight to create the pressure. Nothing Fancy. No electricity, no motors. If you feel the tension or pain using it, it proves that your neck has been holding that much pressure over the years. Use
Massager Pillow
regularly on a sofa while sitter or on a bed while rested. It will help your neck release stress & tension.
Q: "Can we take a nap on this neck massager?"
A: Yes, but.. We do not recommend it. It's because constant pressure that's applied for more than 10 minutes on the same spot is never good. It will affect the muscles too significantly in a short period of time. Moderation is the key!
Q: "I have a herniated disc on my neck spines. Can I use it?"
A: Massager Pillow is designed to relieve neck muscles, not to treat problems or ailments in the neck spines or disc. Treating a symptom is an art. It's like learning how to ride a bicycle. Practice makes perfect. Please do not force your body to change in a short time. Take your time. Be patient. Trust your body. It will take you there.
Q: "Can you use it while sitted?"
A: Yes. Massager Pillow, can be used in any chair with neck/back support. Use it between your breaks. It will give you the very relaxing time by releasing tensions on your neck.
Q: "Can I replace pillows with this Device?"
A: Not really.... maybe only for a nap... We do NOT recommend using it too long because it may cause the drastic changes in circulation, pressure, etc in the head/brain, causing headaches and dizziness.
OUR GUARANTEE
We truly believe we make some of the most innovative products in the world. We will do WHATEVER it takes with outstanding customer service support to assist everyone as we highly value our customer satisfaction with absolute ZERO risk. We make sure that every customer is 110% satisfied in every aspect with 24/7/365 FAST SUPPORT!